The World Great Grand Master Beach Ultimate Club Championships finished with a bang on the windy, sunny, and warm 29th day of September 2021! Kudos to Ichnos Flying Disc – BULA couldn't have done it without you!
After 3 wonderful sandy days of pool play and positioning games, the last day started with exciting semi-final and final games, followed by closing ceremonies and happy hour at the beach, and topped off with a dinner party, garden dancing, and after-hours at the Canadian house (thanks Tragic Hips!)!
In this piece, BULA would like to share post-event information with you and invite you to help us grow the fantastic sport of Beach Ultimate.
Teams
As many of you already know, WGGMBUCC was supposed to have taken place in June 2020 and was postponed twice due to covid – initially to September 2020, then June 2020, and finally to September 2021. The third time was indeed the charm!
From the 16 initially registered teams, the 11 that were able to make it to Sardinia in September were joined by Gaul, from Germany. Look at the beautiful people and the 12 GGM club teams in the figure. All together, these represented 9 countries. These included Canada (Borderline, The Tragic Hips), Finland (Team Finland), France (Jets), Germany (Young Legends, Gaul), Sweden (The Greyt Swedes), Switzerland (Mountainbeachers), UK (Flash), USA (Team Merica, Man Down), and the mythical and mystical Currier Island.
For more information on the results, feel free to browse the website at http://wggmbucc.org/ranking/.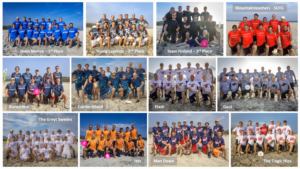 WGGMBUCC 12 Teams from 9 countries 
Broadcast
It was fantastic to be in beautiful Sardinia and participating in one of the first large post-covid Beach Ultimate events, but it is broadcast and pictures that will be forever here for us to enjoy, remember, and share. Thanks to the great job of the Ulti.tv crew, we now have full commentated footage of 4 games per day, totaling 20 games overall!
It's not often that the GGM division gets this much video footage – and the athleticism of the games is inspiring! And the pink Eurodisc, made with renewable plastic, looks absolutely beautiful on the beach!
Click on the link to enjoy all the edited games on the BULA YouTube channel: https://www.youtube.com/c/BeachultimateOrg/videos
Help us grow our favorite sport by subscribing to the BULA YouTube channel and sharing the link!
Photographs
A great photographer, Robert Engelbrecht, took many amazing photos of the event! Take a look on the link: https://pics.robmac.ca/UltimateFrisbee/2021-WGGMBUCC
To order photos at a discount, use the code "Goddess20" and get 20% off (min. €20 to max. €40 – 5 to 10 images). The code is only active until 6 Dec 2021. Simply select which photos you want, go through the normal "Buy Photos" process, and apply the code " Goddess20" at checkout.
The GGM division rocks!
A significant portion of our health can be attributed to how we think, and how we live… That 12 teams took the time/effort/money to beat covid restrictions and go to Sardinia to run on sand and chase plastic makes them very special!
The physical and mental strength of all that participated was incredible – BULA feel privileged to be part of this community.